In Downtown Orlando, we began feeling the effects of the record-breaking 400-mile wide Hurricane Irma at 8:00pm on Sunday night. By this point the once Category 5 Hurricane had been downgraded to a Category 2 with sustained winds of 105 mph as it made its way to Ft. Myers. But 135 miles Northeast of the eye, Central Floridians were getting gusts of 76 mph.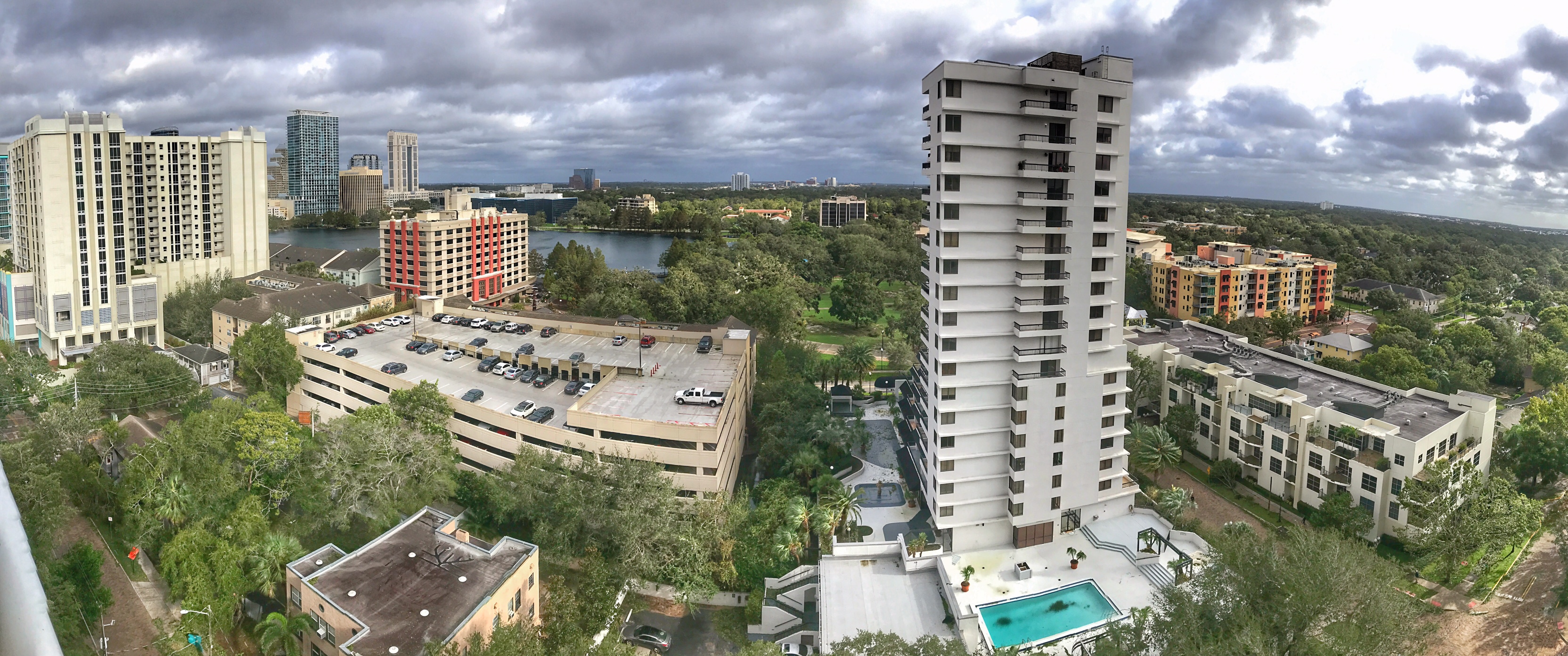 On the 15th floor of the Sanctuary in Downtown Orlando, you could hear the roaring winds and see the sky lighting up green as transformers blew. We had our flashlights handy and we were prepared for the seemingly inevitable power loss. But despite a few flickers, we never lost power throughout the entire storm.
The lights around Lake Eola stayed on throughout the storm so we were able to see the wrath of Hurricane Irma. By 2:00am Downtown Orlando was receiving some of the strongest winds of the storm. Sheet metal was blowing down the street, tree branches were snapping, and all of the streetlights outside of the immediate Downtown area were out.
By 4:00am the rains had subsided but the winds were still very strong. The trees along Pine Street were being whipped back and forth and the eerie humming of the wind was so loud I wasn't able to get much of any sleep. By morning winds had died off substantially and Hurricane Irma was downgraded to a tropical storm.
Lake Eola After Hurricane Irma
After surveying the damage in the Downtown Orlando area, I can confidently report that we were very lucky to escape the brunt of the storm. The streets were littered with foliage and debris. The water level in Lake Eola was so high that a portion of the walking path was flooded. The swans, ducks, and turtles looked a bit battered, but we were happy to see them out and about.
Local Businesses Hurricane Damage
A number of the local businesses like Word of Beer, Eola Wine Room, Oudom, and the Gym Downtown had significant damage to their awnings and windows.
Downtown Orlando Condo Damage
Debris knocked out a few windows in the Sanctuary, The Vue, Paramount, Aspire, and a number of other downtown residences. The sports court at The Vue took a serious beating. But overall, the damage to the Downtown High-rises was very minimal.
SaveSave
SaveSave
SaveSave
SaveSave